Former Chairman of the Abia State All Progressives Congress, APC, Hon. Donatus Nwankpa has accused the National Secretariat of the party of masterminding the crisis in Abia using the National Secretary as the arrowhead.
Speaking with newsmen after a scheduled meeting with the National Reconciliation Committee of the APC, last Friday at Abuja, Nwankpa said some people have conspired with the National Secretary of the APC to undermine the growth of the party not only in Abia but in the South East region.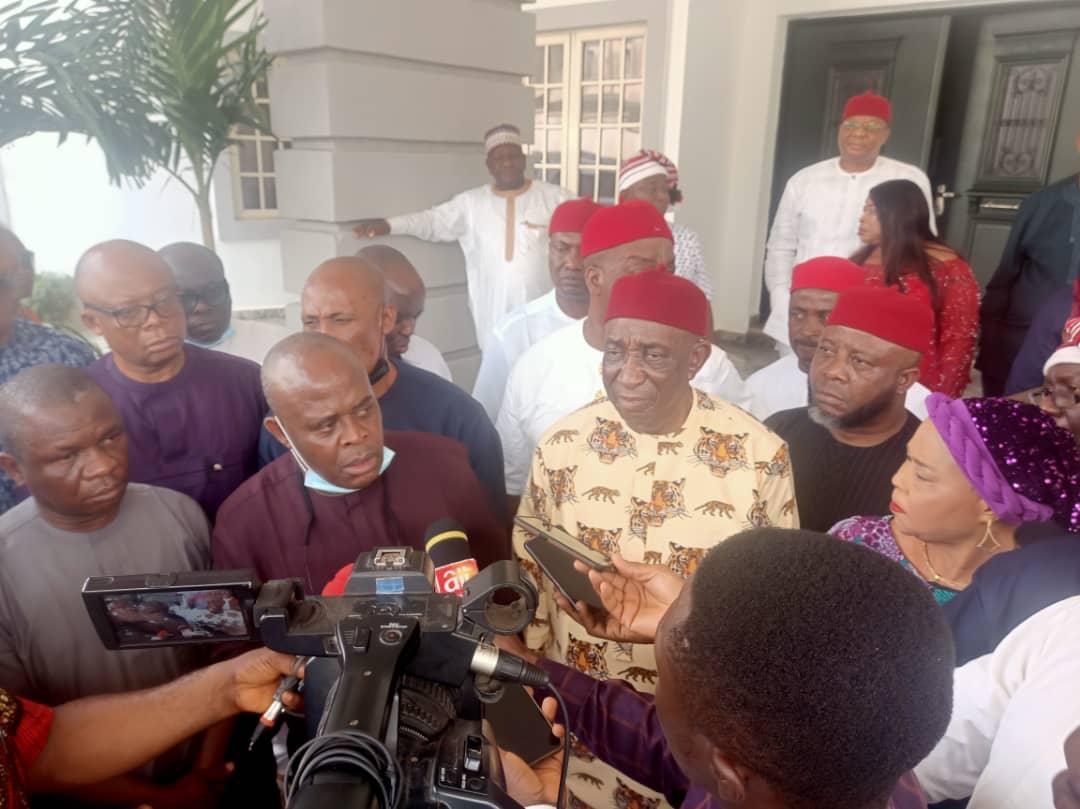 Hear him, "Now you have here the Abia State APC leadership and Stakeholders, Caucus members who have come to interact with the National Reconciliation Committee, headed by His Excellency, Senator Adamu Abdullahi with other array of leaders – former governors, former deputy governors, all in attendance.
"For the Abia APC, you have here today, the great leadership of the party, and we have Senator Chris Adighije who is leading us as an elder of the party for this project. Dr. Orji Kalu is aware but because he is a caucus Chairman, we didn't want him to be part of this thing because we don't want him to be seen on anything.
"The aim of forming this Committee is to give the Reconciliation Committee the truth and the true picture of APC in Abia state. Politics is local and these are the leaders who have funded this party from 2013 till date. Abia APC does not receive subvention. We are sure of winning election come 2023.
"You all are aware of the recent drama that happened in Anambra State; that is the picture of conspiracy that they want to put Abia State, and we are saying No to it.
He said that the party leaders had done their Congress arising from the Ward Congresses, which the Independent National Electoral Commission had okayed, adding that the Court of competent jurisdiction had equally validated every of their Congress procedure.
Nwankpa said, "You can't beat a child and say the child should not complain. That is what we are here to tell them. You cannot impose leadership on Abia APC. Abia APC runs on a collegiate system, which means leaders man their wards. This is the directive of Mr. President. Mr. President is opposed to imposition of any leadership at any level.
"He (Buhari) wants the leadership to grow from the grassroots and that is why the APC is here today. And we're very happy with the atmosphere of our deliberations, with the interrogations and the committee we are convinced they have seen the truth. Because of the quality of persons, the impeccability and the quality of their leadership and their track record, we have no option than to say, I don't want to make a pronouncement.
"What I want to say is that they have seen the truth and the truth will set everybody free including you press men. Because when you report against the truth, the truth will not set you free. Also, we want you to let the world know that Abia APC does not have problem. The problem we have is the one induced from the National Secretariat, using the National Secretary as the arrowhead. That is the situation."