A non-political organisation, Coalition For Ukwa Leadership Accountability, COFULA, on Monday, January 17, 2022, at the Obohia Town Hall in Ukwa East Local Government Area of Abia State, passed a vote of no confidence on Hon. Uzoma Nkem Abonta, the member representing Ukwa East / Ukwa West Federal Constituency at the National Assembly.
Moving the motion for a vote of no confidence and commencement for the recall of the honourable member, Comrade Ibeakolam Nwagbara from Ozar Ukwu Ward in Ukwa West Local Government Area, stated that Abonta has performed below the expectations of the majority of the constituents in the Ukwa Federal Constituency, and needed to be recalled urgently.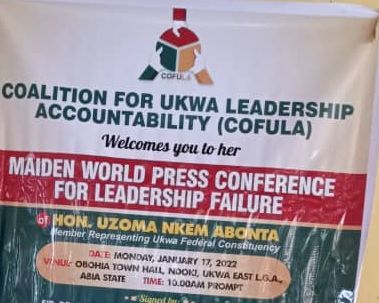 In his speech, Comrade Kingsley Nna said that it was due to the ineffectiveness of Hon. Abonta at the National Assembly that their Federal Constituency had witnessed total absence of Infrastructural development, adding that the fifteen years the member has spent in the House have been years of emptiness, insult and harassment to his people.
He said, "We have not been able to have access to our land due to bad roads. People are robbed and kidnapped along the major road in the Federal Constituency, which is the Obehie – Azumini – Ukanafun road because the road is very bad".
"The only constituency project that Abonta has completed is his private building which he does not even have easy access to", he added.
He said it had become incumbent on them to take constitutional steps to ensure that the member was recalled from the House, stressing that they had lost confidence in his capacity to continue to represent them at the green chamber.
Nnah said that the time had come for them to begin scrutinise the quality of persons going for representative offices in the Constituency, adding that, "What manner of legislator harasses his constituents. What manner of legislator takes offence when he is asked for explanations".
Also speaking during the World Press Conference, Dr. Chidi Nwankpa, a Co-Convener of COFULA, who described their actions as the beginning of a revolution by a people who have been oppressed, stated that the represention of the Federal lawmaker has fallen short of acceptable standards locally, regionally, nationally and globally.
He said, "Abonta has been representing himself and family. As I speak, I am not aware of any functional health centre that has a resident doctor in Ukwa East and Ukwa West Local Government Areas. No functional access road for the past fifteen years. I am not aware of any functional electricity and education is at its lowest level.
He challenged the representative to provide documents to prove his claim that he was the one that facilitated the award of the Obehie – Azumini – Ukanafun road.
He disclosed that the road was the brainchild of one time Secretary to the Government of the Federation, and the first Nigerian Minister of Niger Delta Affairs, Ufot Ekaette.
Earlier in her welcome address, Chief Magistrate Emily Herbert (retd), made it known that nobody had anything personal against Hon. Abonta, but stated that he had performed below average.
She said, "Nobody has anything personal, but we feel that he has not represented us properly. He has to be a accountable to us. He has to work in synergy with us".
She maintained that the member has performed below his peers in other Local Government Areas and States, adding that he has never held a single meeting with his constituents to give his scorecard.
Herbert expressed worry that the represention of Abonta had left their area with no roads, no vocational training, no empowerment for women and the youths, stressing that they had become tired of his represention.
The following dignitaries attended the event: High Chief Oxford Wabara, Lady Chinedu Brown, Hon. Chinenye Ukaegbu, Comrade Sampson Belle, Ebenezar Adiele and Bishop Chris Nwosu.
Others were; Comrade Paul Udechukwu, Dr. Mrs. Ngozi Nwagbara, Comrade Ebenezer Ajiere, Lady Dora Uchegbu, Chinyere Alunna, Chief Enyinnaya Okere and Comrade Chiwuike Ekeke.