A group under the aegis of the Concerned Northern APC Youths Forum has thrown its weight behind the ambition of the Governor of Ebonyi State, Engr. David Umahi to become the president of Nigeria in 2023.
The group disclosed that the consultations it made across all the Northern States showed that Umahi was found a worthy successor to President Muhammadu Buhari.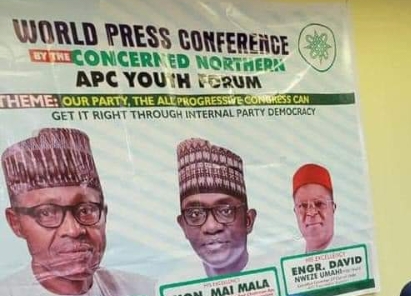 In a World Press Conference, the Chairman of the Forum, Hon. Suleiman Liba said:
"Our dear party, the All Progressives Congress, must stick to the plan and ensure we get it right through Internal Party Democracy since true democratic tenets entail that a few may have their say but the majority should have their way.
"We reiterate that the party's activities especially during the coming convention must reflect the wish of the people.
"Our body, the Concerned Northern APC Youth Forum just completed our consultation tour of the entire 19 northern states and the people are not expecting anything less from the party hierarchy.
"We must commend the readiness and resolve of the masses especially within the Northern part of the country to participate massively in the electioneering processes through to 2023. More impressively is the understanding of the people that justice, fairness, and equity must come to play in choosing and electing who becomes the next president of Nigeria.
"It is very surprising how they have conducted their due diligence and have drawn conclusions that power should shift to the south and the southeast in particular because according to them, in Engr. David Nweze Umahi, they have found a worthy successor to president Muhammadu Buhari come 2023, the man's antecedents of excellence speaks volume and his achievements in Ebonyi state are there for everyone to see.
"Based on the above, the Concerned Northern APC Youth Forum further throw her weight behind the candidature of Engr David Nweze Umahi for President, as it reflects the wish of the people especially from the North where we carried out a very successful consultation tour.
"We urge other bodies across the entire country to join in the support for Dave Umahi as this is the sure way for Nigeria to go."